Our Farm Store
Open for the season
Wed - Sun, 10am-5pm
May-Oct.
Sat.- Sun. 10am-5pm
Nov.-Dec.
Click the links above
to shop online
Busy Hands 2023
Busy Hands 2023!
We're hosting Busy Hands 2023 with Vicki's Veggies at the Wellington Arena again this year! This holiday makers market is at Highline Hall at 111 Belleville St., Wellington, Ontario.
Saturday Dec. 9, 9am-5pm and Sunday Dec. 10, 10am-4pm. Wheelchair accessible. All local handmade goods. Over 70 vendors!
Free Admission and Free parking! Please bring a donation for the Food Bank. There will be plenty of food and drink available for sale from our vendors at Busy Hands so you can plan to have lunch there. Come out to the biggest Christmas party of the season! Follow us on the Honey Pie Hives and Herbals Facebook page event!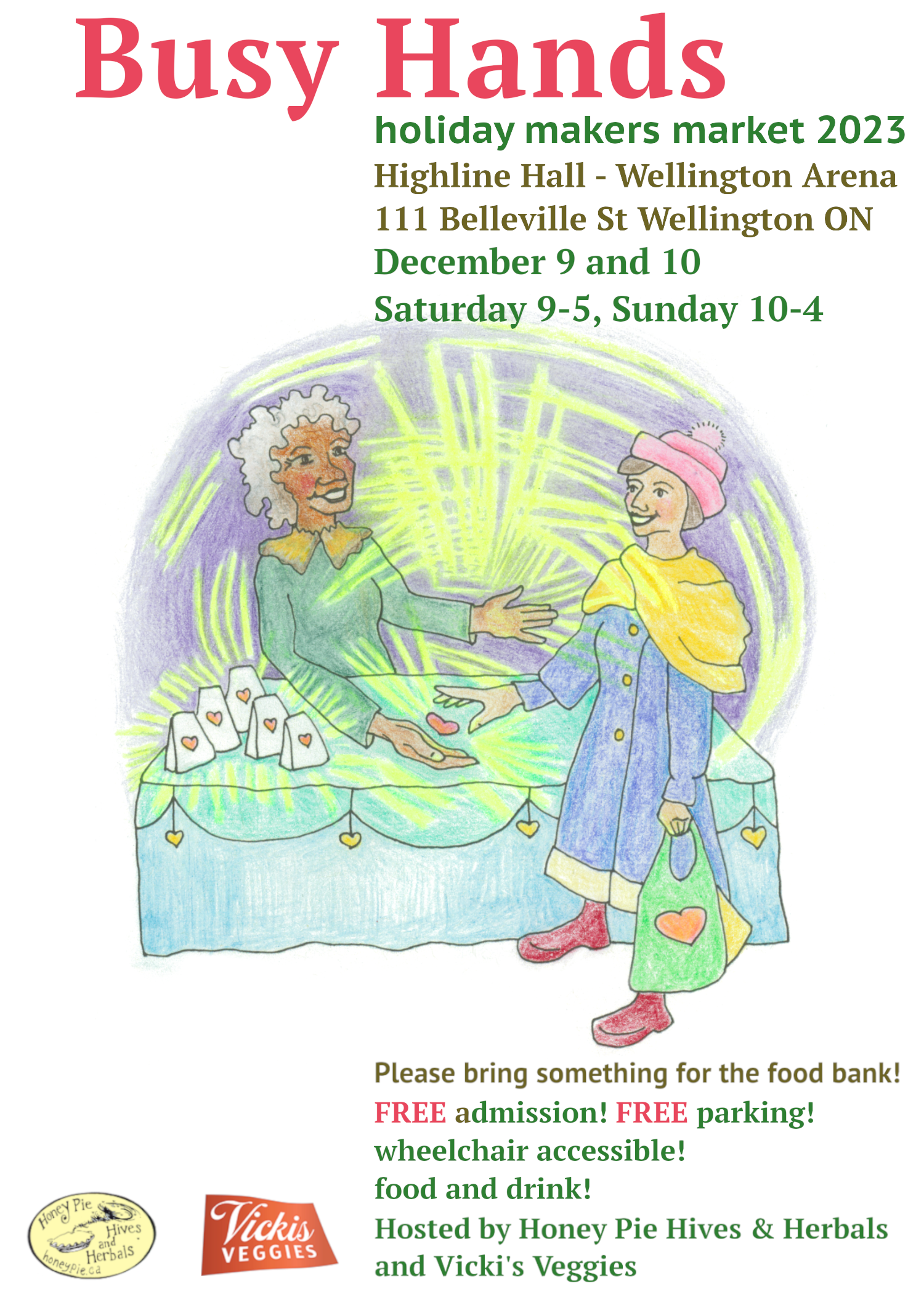 Where to find us this season...
Here are the markets you can find us at leading up to Christmas.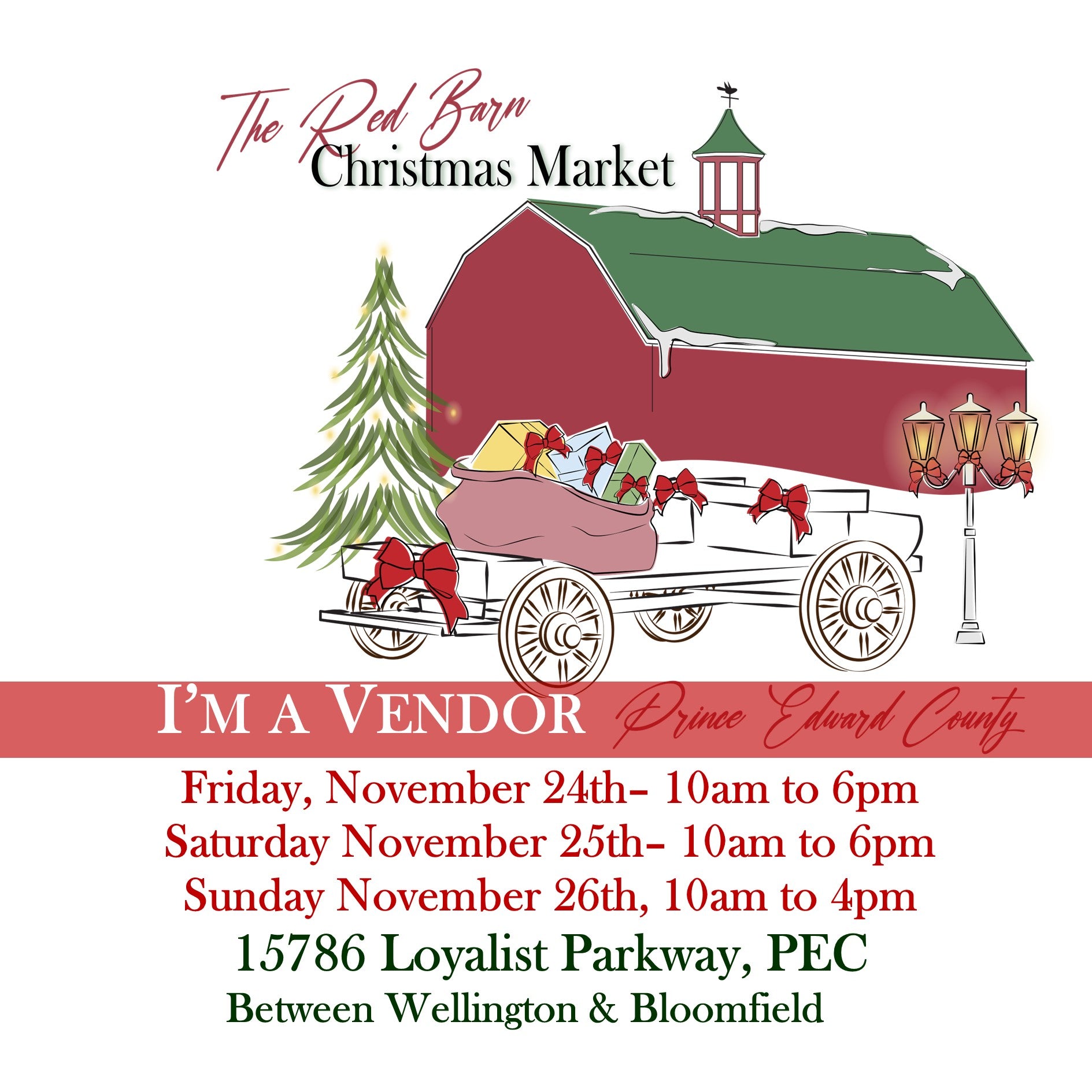 the Red Barn Christmas Market
Friday, Nov. 24, 10am-6pm
Saturday, Nov. 25, 10am-6pm
Sunday, Nov. 26, 10am-4pm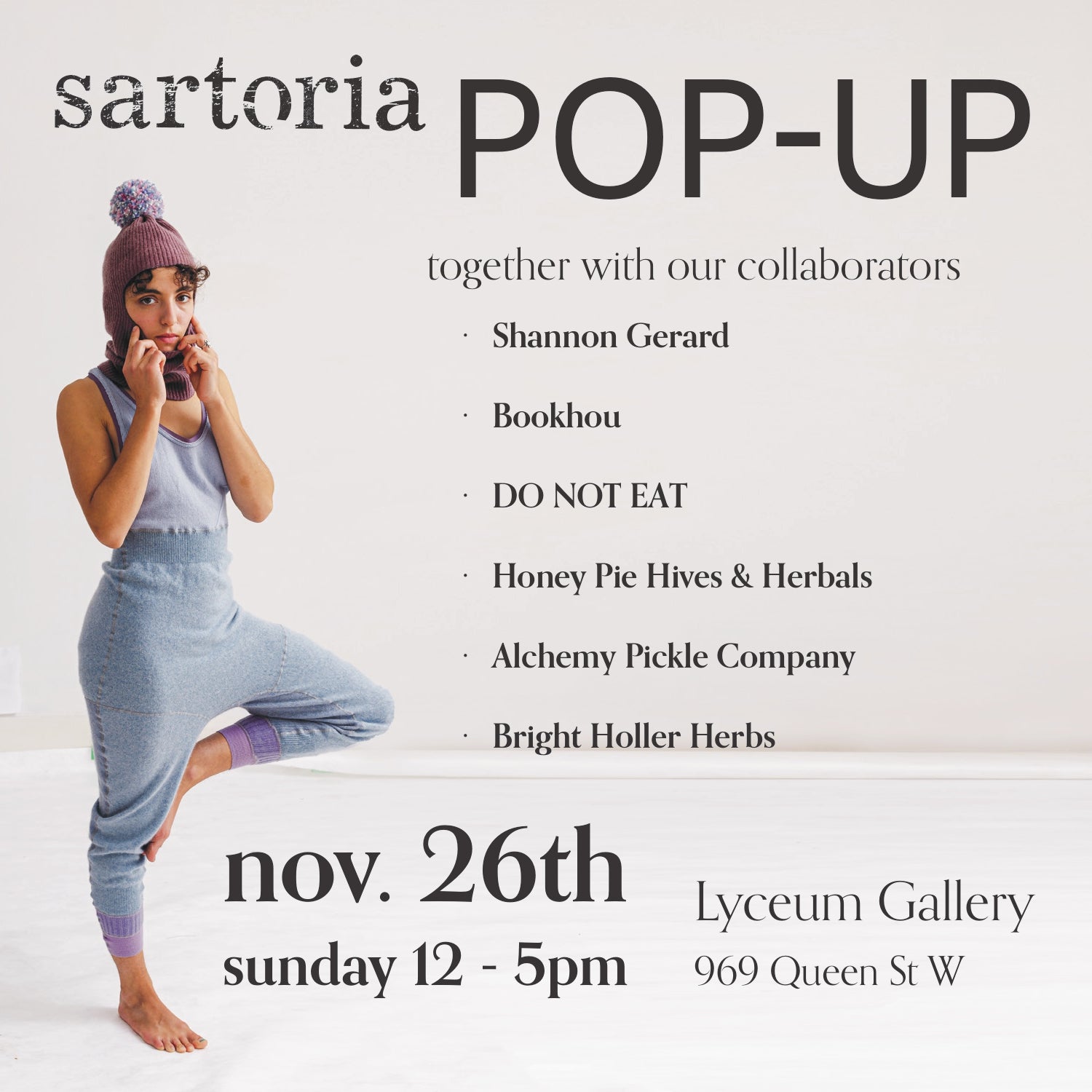 Sartoria Pop-up
Sunday, Nov. 26, noon-5pm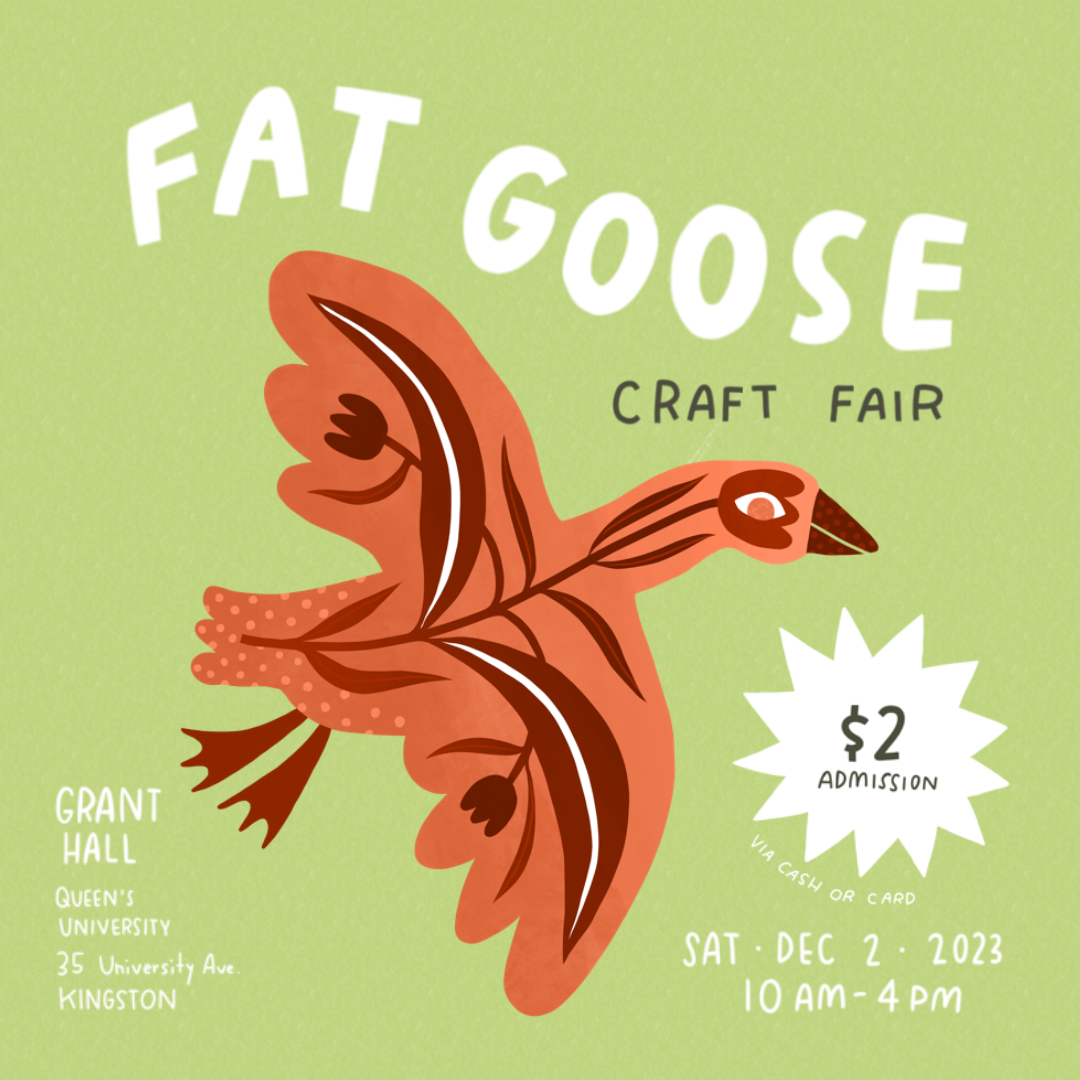 Fat Goose Craft Fair
Saturday, Dec. 2, 10am-4pm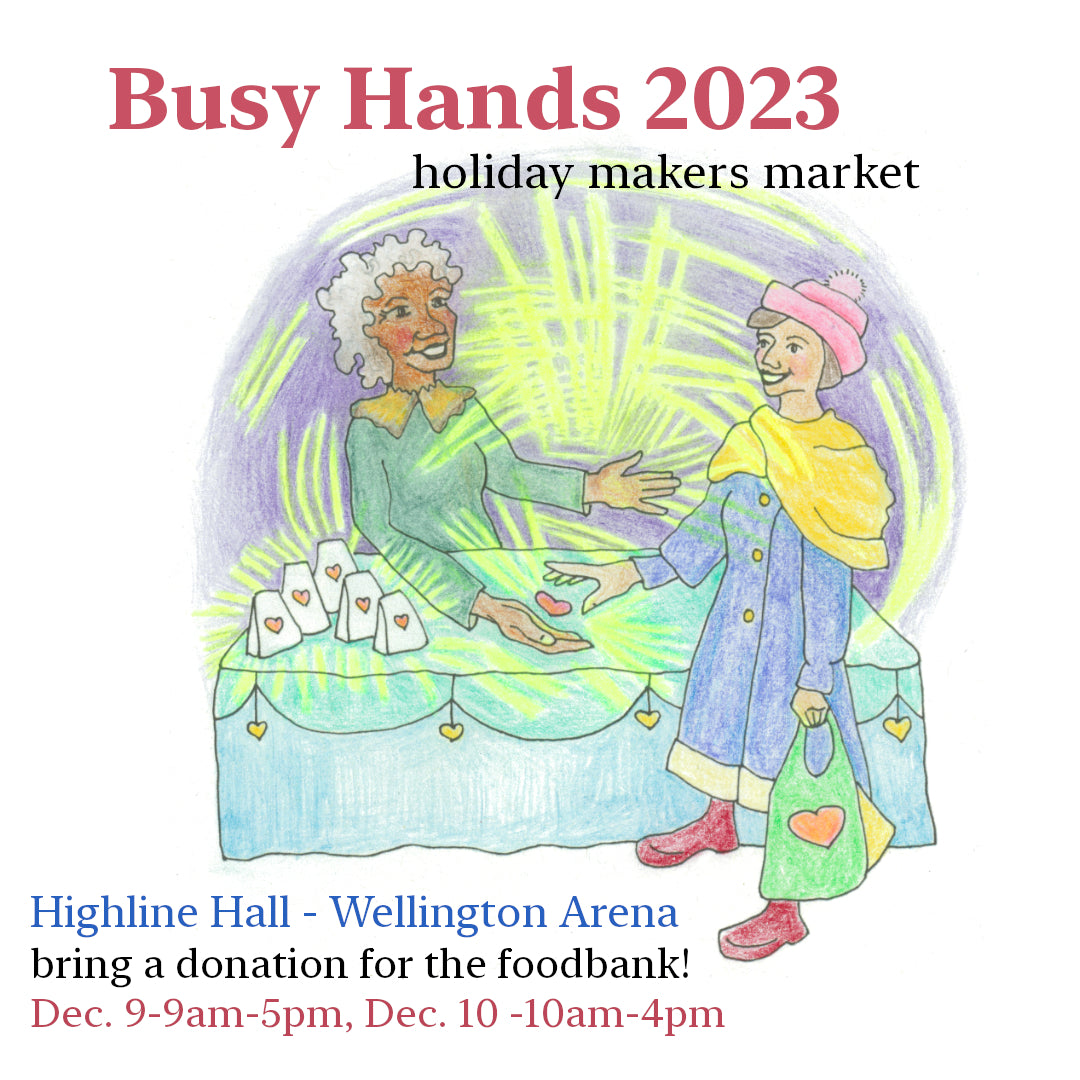 Busy Hands
Saturday, Dec. 9, 9am-5pm
Sunday, Dec. 10, 10am-4pm
The place to go for all things honey and herbal
Living sustainably
We keep bees and grow herbs on our farm in Prince Edward County, Ontario. We combine beeswax and propolis with herbs to make natural healthful products. We are a small, farm based business.  
Benefits of Bees
The mysterious and fascinating honey bee is a constant source of inspiration to us. Many of the same flowers that the bees collect nectar from can be used in herbal preparations to ensure health and well being in humans.
Posted by Honey Pie Hives Admin on
---
Welcome to a new chapter... we've been experimenting with natural dyes and here are some of our results!  Each skein is dyed individually and is one of a kind. What you see in the photos is what's available now.We use wool that we buy from local sheep farmers and have it spun into different weights of yarn. Then we dye it with a combination of wild plants, plants we grow in our herb garden and natural dyes we purchase. It's all about experimentation and working with the seasons.
read entire article